October 2010 - Darryl visited Northcote Primary School, and presented three sessions to students from year 1 to year 6

September 2010 - Darryl visited Panmure Bridge School, and presented to all students (year 1 to 6) and did a 1.5 hour photography workshop for year 6 photography students

August 2010 - Darryl worked with the photography students at Orewa College, and spent time with each student brainstorming on ways to improve thier portfolios.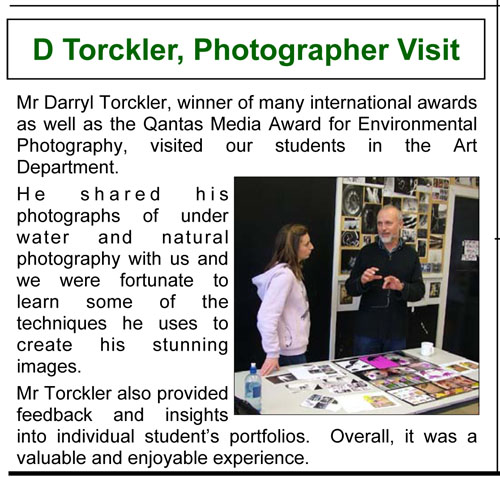 An extract from Orewa College magazine "WATERMARK" August 2010 issue. Orewa College's website
July 2010 - Gillian visted
Edendale Primary School
June 2010 - Darryl visited
Remuera Primary School
, and presented to all students (year 1 to 6)
August 2009 - Darryl took part in the
Storylines Festival
, inclding the
Auckland Free Family Day
and the week long
Storylines Tour
of the Auckland schools. Including the following schools:
Northcote Intermediate, Wesley Intermediate, Mt Roskill Intermediate, Royal Oak Intermediate, Don Buck school, Bruce McLaren Intermediate, Glenfield Primary, Birkdale North, Kelston Primary, Finlayson Kindergarten, Finlayson Park School and Manurewa Intermediate.

July 2009 - Gillian visited
Whangaparoa College
and presented to the junior school. Afterwards, she led a workshop for year 9 students on book design using pictures.
May 2009 - Gillian took part in the Book Council's
Wordspace
video conference with author Janet Hunt on the topic
Writing for the Environment